Nursing Staff Practices Regarding Infection Control Measures at Raparin Teaching Hospital for Children in Erbil City
Keywords:
Infection control, Children, Nurs, Practice
Abstract
Background and objectives: Nosocomial infection is one of the main reasons of mortality and has significant financial costs due to elevated hospitalization and prognosis; thus, they should be prevented and controlled. This study aimed to assess the practice of the nursing staff regarding infection control measures at Raparin Teaching Hospital for Children.
Methods: A descriptive study was conducted in Raparin Teaching Hospital for Children in Erbil City, Kurdistan Region/Iraq. A purposive sample involving 81 nurses working in emergency, ICU, NICU, and surgical units at Raparin Teaching Hospital for Children who care for children was selected for the study. The researcher developed a checklist format developed by the researcher for data collection that included three parts: socio-demographic characteristics, vaccination history, and nurses' practice regarding infection control measures. The data were processed and analyzed using Statistical Package for the Social Sciences (SPSS), version 26.
Results: Most (77.8%) of the nurses were living in urban areas and they showed fair performance (81%). The results showed that 45.5% of ICU nurses outperformed their counterparts in terms of performance. The results also revealed that the younger nurses were better in terms of performance. Furthermore, the results revealed that 75.3% of the nurses have fair performance, 17.3% have good performance, and 7.4% have poor performance.
Conclusion: Based on the overall performance of the nurses, most of the nurses have fair infection control practices, and the minority of them have poor practices. Younger nurses showed better performance in comparison to others.
References
World Health Organization. Infection prevention and control: guidance to action tools. World Health Organization. Regional Office for Europe. 2021. Available from: https://apps.who.int/iris/handle/10665/341107. [Accessed 23rd Oct 2021].
Buowari OY. Universal Precautions: a re-view. Nigerian Health Journal. 2012; 12(3):68-74.
Chisanga CP. Knowledge, attitudes and practices of nurses in infection prevention and control within a tertiary hospital in Zambia (Master's thesis, Stellenbosch: Stellenbosch University). 2017.
Wynn MO. Understanding the principles of infection prevention and control. Nursing Standard. 2021 Apr 26; 36(5):61-66.
Klevens RM, Edwards JR, Richards Jr CL, Horan TC, Gaynes RP, Pollock DA, et al. Estimating health care-associated infections and deaths in US hospitals, 2002. Public health reports. 2007 Mar; 122(2):160-166.
Kaye KS, Anderson DJ, Sloane R, Chen LF, Choi Y, Link K, et al. The effect of surgical site infection on older operative patients. Journal of the American Geriatrics Society. 2009 Jan; 57(1):46-54.
Cavalcante SS, Mota E, Silva LR, Teixeira LF, Cavalcante LB. Risk factors for developing nosocomial infections among pediatric patients. The Pediatric Infectious Disease Journal. 2006 May 1; 25(5):438-445.
Fashafsheh I, Ayed A, Eqtait F, Harazneh L. Knowledge and Practice of Nursing Staff towards Infection Control Measures in the Palestinian Hospitals. Journal of Education and Practice. 2015;6(4):79-90.
Moore DL. Essentials of paediatric Infection control. Paediatrics and Child Health. 2001 Oct 1; 6(8):571-579.
Alemayehu T, Tadesse E, Ayalew S, Nigussie B, Yeshitila B, Amsalu A, et al. High burden of nosocomial infections caused by multi-drug resistant pathogens in pediatric patients at Hawassa university comprehensive specialized hospital. Ethiopian Medical Journal. 2019:45-55.
Gonzalez BE, Goldfarb J. Nosocomial Infec-tions in Pediatric Solid Organ Transplantation. In Healthcare-Associated Infections in Children. 2019; (pp. 301-321).Springer, Cham.
Aktar F, Tekin R, Güneş A, Ülgen C, Tan I, Ertuğrul S, et al. Determining the independent risk factors and mortality rate of nosocomial infections in pediatric patients. Bio-Med Research International. 2016 Feb.
Li K, Li X, Si W, Cui Y, Xia H, Sun X, et al. Pre-operative and operation-related risk factors for postoperative nosocomial infections in pediatric patients: A retrospective cohort study. PloS One. 2019 Dec 23; 14(12):e0225607.
Lawal, W. U. & Nwolisa, E. Prevention and Control of Infectious Diseases. In: JC Az-ubuike, Nkanginieme; Paediatric and Child Health in a Tropical Region. Educational Printing and Publishing (Publishers). Su-rulere, Lagos. 3rd Edition. 2016. ISBN: 978-81906735-01. Page 494-543.
Gravel D, Gardam M, Taylor G, Miller M, Simor A, McGeer A, et al. Canadian Nosocomial Infection Surveillance Program. Infection control practices related to Clostridium difficile infection in acute care hospitals in Canada. American Journal of Infection Control. 2009 Feb 1; 37(1):9-14.
Kassim ZA, Al-Mulaabed SW, Younis SW, Abutiheen AA. Infection prevention and control measures for COVID-19 among medical staff in Nineveh Governorate, Iraq. Journal of Contemporary Medical Sciences| Vol. 2020 Jul; 6(4):150-155.
Daulay FC, Sudiro S, Amirah A. Management analysis of infection prevention: Nurses' compliance in implementing hand hygiene in the inventories of Rantauprapat hospital. Journal of Scientific Research in Medical and Biological Sciences. 2021 Feb 28; 2(1):42-49.
Alwan AD. Health in Iraq: The current Situation, our vision for the future and areas of work. Baghdad: Ministry of Health. 2004 Dec 2.
Hussin BK, Idaned ZK. Incidence of Needle Stick and Sharp Items Injuries Among Nurses At Al-Kindy Teaching Hospital. Pakistan Journal of Medical & Health Sciences. 2022 Jun 1; 16(04):961-963.
Al-Kerity SH, Naji AB. Evaluation of Healthcare workers' Practices Concerning Infection Control Measures at Primary Health Care Centers. Scientific Journal of Medical Research. 2017; 1(2):63-68.
Zenbaba D, Sahiledengle B, Bogale D. Prac-tices of healthcare workers regarding infection prevention in Bale Zone Hospitals, Southeast Ethiopia. Advances in Public Health. 2020 Oct; 1-7.
Salh N, Turki S. Assessment of Causes of Wounds Infection (WI) after Caesarean Section at Al-Batol Teaching Hospital in Iraq. Kufa Journal for Nursing Sciences. 2022 Jun 14; 12(1).
Rounak, N. A. (2005). Assessment of Infection Control Process at Hemodialysis and Peritoneal Dialysis Units in Kurdistan Region (Master's thesis, Hawler Medical University , College of Nursing.
Bonanni P, Pesavento G, Bechini A, Tiscione E, Mannelli F, Benucci C, et al. Impact of universal vaccination programs on the epidemiology of hepatitis B: 10 years of experience in Italy. Vaccine. 2003 Jan 30; 21(7-8):685-691.
Thazha SK, Cruz JP, Alquwez N, Scaria B, Rengan SS, Almazan JU. Infection prevention and control awareness, attitudes, and practices among healthcare professionals in South India. The Journal of Infection in Developing Countries. 2022 Apr 30;16(04):659-67.
ALjohani HS, Sulaiman AA. Assessment of Health Care Workers' Knowledge and Practice Toward Infection Standard Precautions in Primary Health Care setting, Burai-dah, Saudi Arabia. Middle East Journal of Family Medicine. 2021 Aug 1; 7(10):81.
Shrestha GN, Thapa B. Knowledge and practice on infection prevention among nurses of Bir Hospital, Kathmandu. Journal of Nepal Health Research Council. 2018 Nov 2; 16(3):330-335.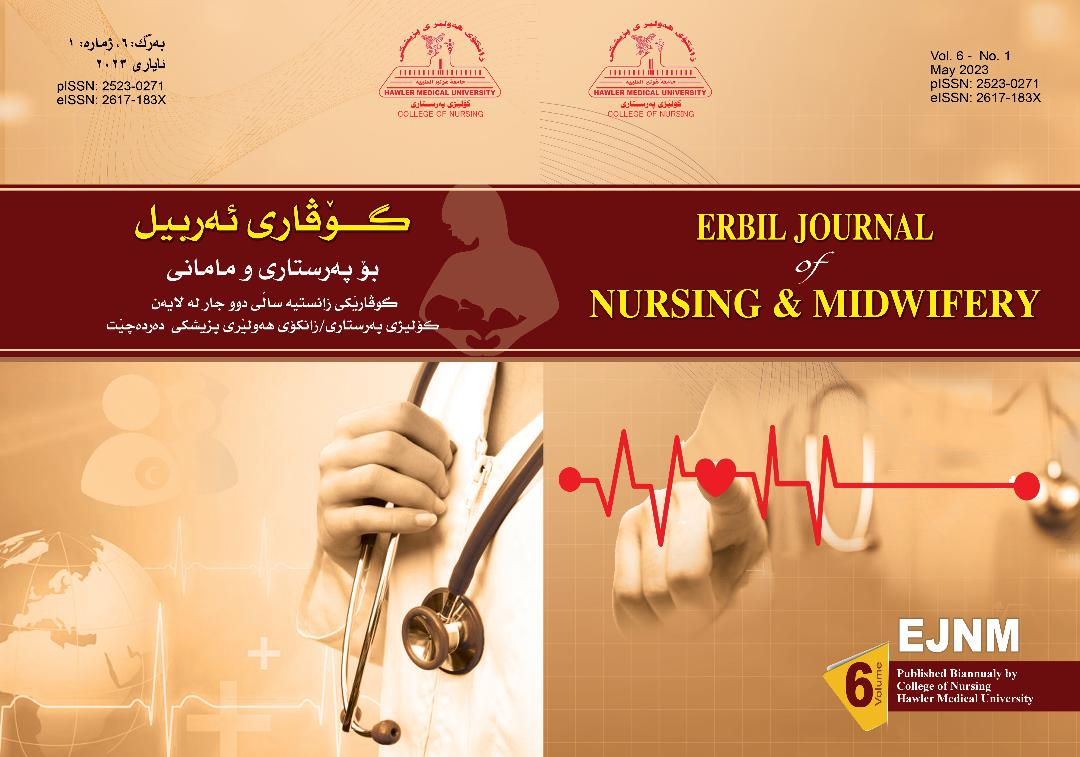 Downloads
How to Cite
1.
Kalhury RM, Shaker NZ. Nursing Staff Practices Regarding Infection Control Measures at Raparin Teaching Hospital for Children in Erbil City. Erbil j. nurs. midwifery [Internet]. 2023 May 30 [cited 2023 Dec. 9];6(1):13-21. Available from: https://ejnm.hmu.edu.krd/index.php/ejnm/article/view/225
Section
Original Articles
License
Copyright (c) 2023 Ramyar Mutalib Kalhury, Norhan Zeki Shaker (Author)
This work is licensed under a Creative Commons Attribution-NonCommercial-ShareAlike 4.0 International License.