Quality of Immediate Nursing Care Provided to Newborn at Maternity Teaching Hospital in Erbil City
Original Article
Keywords:
Immediate nursing care; Newborn ; Delivery room
Abstract
Background and objective: Quality of nursing care and competent health care providers, particularly skilled birth attendants, are essential requirements for providing care for both mothers and newborns. The current study aimed to assess quality of nursing care provided immediately after birth to newborn by nurse/midwives at Maternity Teaching Hospital in Erbil city.

Methods: An observational study conducted during 2014. Samples of 25 nurse/midwives were purposively selected from nurses working at delivery room. Data were collected through the use of questionnaire format and observation checklist structured by researcher. The questionnaire format was used for interviewing nurse/midwives about (socio-demographic, professional background and nurses/midwives workload), while the check-list, which consisted of eight domains, was used for observing nurse/midwives during new-born care. A panel of experts checked the validity of the instrument when reliability was measured with computation of Pearson product moment correlation. Data were analyzed through the application of descriptive and inferential statistical tests.

Results: The results revealed that the highest percentage 40% of the nurse/midwives were graduated from preparatory midwifery school, 64% of the nurse/midwives haven't attended training course about immediate neonatal care. 100% of nurse /midwives do not washed their hands before and after performing each procedure and haven't any role in initiation of newborns breathing. There were not significant associations between overall quality of immediate nursing care and nurse/midwife's qualification, experience years and training course.

Conclusion: Quality of immediate nursing care provided after birth to newborn by most of nurse/midwives was poor.
References
[1] Shrestha M, Singh R, Upreti D. Quality of care provided to newborns by nursing personnel at BP Koirala Institute of Health Sciences. Kathmandu University Medical Journal 2009; 7. 3(27): 231-232. Available from: http://www.ncbi.nlm.nih.gov/pubmed/20071868. [Accessed: 9th April 2014].
[2] Beck D, Ganges F, Goldman S , Long P., Care of the Newborn Reference Manual . Washington, DC 20036. 2004; Save the Children Federation.P24-32.Available from: www.healthynewborns.com [Accessed: 10th June 2013].
[3] Baral O, New born care practice of through mothers. A multidisciplinary journal. 2012; 2.1.P. 38-39.
[4] Ministry of Planning Kurdistan Regional Government KRG. Regional development strategy for Kurdistan region 2013-2017. 2012; P. 139. Available from: http://www.mop.krg.org/resources [Accessed: 1st August 2013].
[5] Sarin J, Jeeva S, Geetanjli, Sheoran P. Practices of Auxiliary Nurse Midwives re garding care of baby at birth. Nursing and Midwifery Research Journal. 2011; 7, (3) .Available from: http://medind.nic.in/nad/t11/i2/nadt11i2p64.pdf [Accessed: 15th January 2014].
[6] American Academy of Pediatrics and American College of Obstetricians and Gynecologists. Guidelines for prenatal care. 2007; Available from: https://www.awhonn.org/awhonn/binary.content [Accessed: 10th February 2014].
[7] Sobel H , Silvestre M , Mantaring J, Oliveros Y, Nyunt-U S. Immediate newborn care practices delay thermoregulation and breastfeeding initiation. Pubmed Acta Pædiatrica. 2011; 0803–5253.available from: http://www.ncbi.nlm.nih.gov/pubmed/21375583 [Accessed: 10th February 2014].
[8] Iradakuna C., Lambert B., Moreiras J. Resuscitation of the newborn anesthesia tutorial of the week 167. 2010; 3-11.Available from : http://www.frca.co.uk [Accessed: 8th February 2014].
[9] Khan M, H., Khan F., R., Noman N., Hashmi G., Gul S., Ali A., et al.. Essential Newborn Care Practice In Hospital Versus Home Deliveries. Gomal Journal of Medical Sciences. 2006; 4, 1. Available From: http://www.gjms.com.pk/files [Accessed: 10th February 2014].
[10] World Health Organization. Basic Newborn Resuscitation: practical guide. Safe motherhood. 1999; 16. Available from: http://whqlibdoc.who.int/hq [Accessed: 4th February 2014].
[11] Chawla O., Neonatal resuscitation: research issues. Journal of Neonatology. 2009; 23,4,P281. Available from: http://www.donnageczi.com/pdfs/IOS-Press-Journal-Library/support-files/jn.pdf [Accessed: 10th February 2014].
[12] Champlain Maternal Newborn Regional Program (CMNRP). Newborn adaptation to extrauterine life and newborn assessment. Champlain Maternal Newborn Regional Program. 2013; P.3-11. Available from: http://www.cmnrp.ca/download [Accessed: 5th April 2014].
[13] DattaP. PediatricNursing.2ndedition. Jaypee Brothers Medical Ltd, New Delhi ,India. 2009; 73-74.
[14] Mike E., Stephen N., John W., Patrick M., Newton O., Philip A., et al, An intervention to improve pediatric and newborn care in Kenyan district hospitals. Understanding the context, Implementation Science Journal English; licensee BMC Ltd. 2009; 4(42). Available from: http://www.implementationscience.com/ [Accessed: 10th February 2014].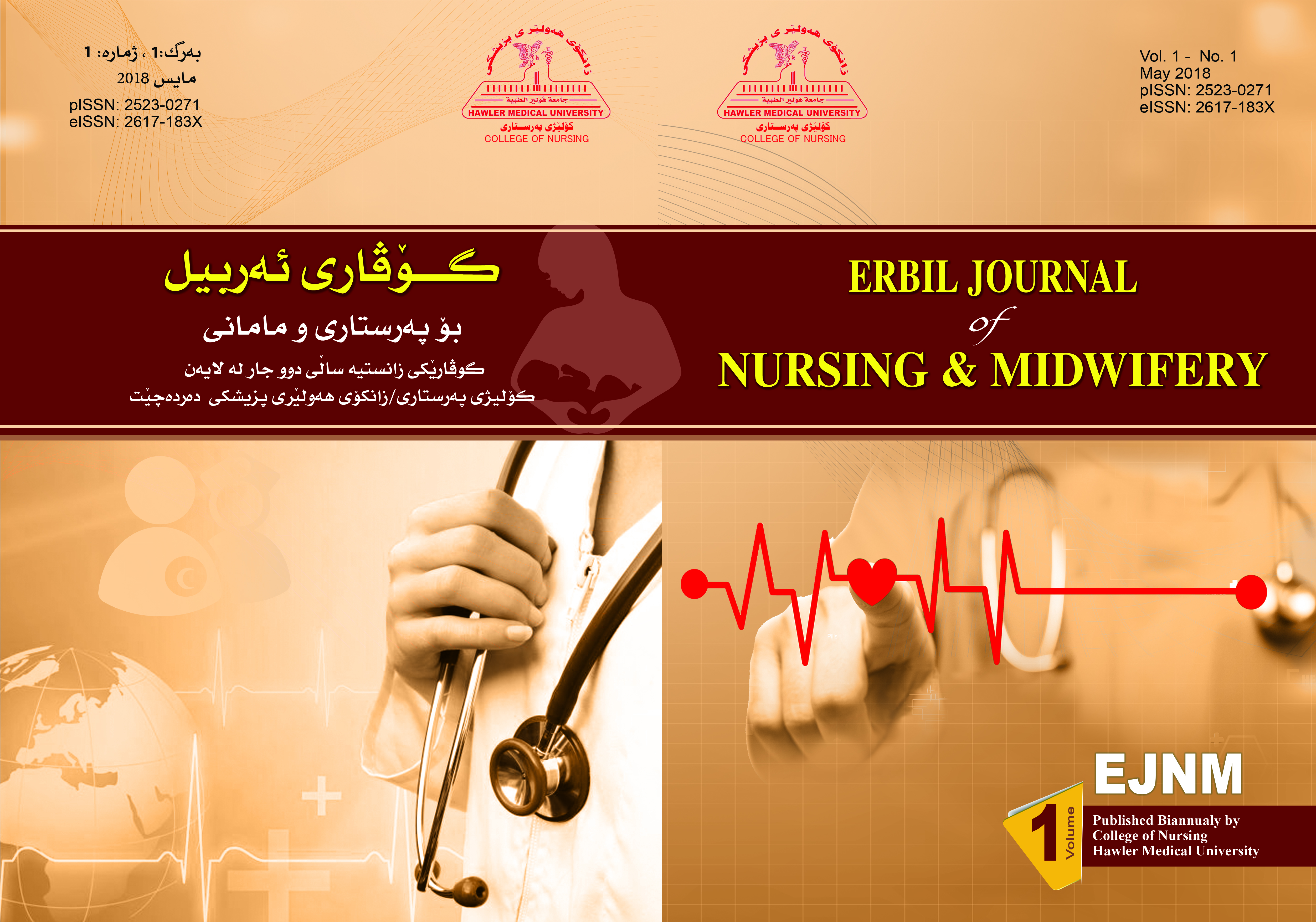 Downloads
How to Cite
1.
Jamsheer KM, Shaker NZ. Quality of Immediate Nursing Care Provided to Newborn at Maternity Teaching Hospital in Erbil City: Original Article. Erbil j. nurs. midwifery [Internet]. 2018 May 30 [cited 2023 Jun. 7];1(1):33-41. Available from: https://ejnm.hmu.edu.krd/index.php/ejnm/article/view/14
Section
Original Articles
License
Copyright (c) 2018 Kurdistan Mirza Jamsheer, MSc, Norhan Zeki Shaker, PhD (Author)
This work is licensed under a Creative Commons Attribution-NonCommercial-ShareAlike 4.0 International License.