Patients' Satisfaction about Health Services in Out-patients Clinics of Teaching Hospitals in Erbil City
Keywords:
patients' satisfaction, outpatients departments
Abstract
Background and objectives: Outpatients' satisfaction is important aspect to evaluation levels of quality and quantity services provided in outpatients departments. The study aimed to assess patients' satisfaction toward health care provided in out-patients clinics of Rizgary and Hawler Teaching Hospitals and find out the factors that are associated with levels of satisfaction.
Methods: A cross-sectional study was conducted in Hawler and Rizgary Teaching Hospitals in Erbil city. The study started from April 1st, 2017 to July 1st, 2017. A convenience method of sampling was used to recruit 500 participants who attended in Out-patients Clinics 238 (47.6%) from Rizgary Hospital, and 262 (52.4%) from Hawler Hospital. The questionnaire format was designed by researches for data collection. The questionnaire consisted of two parts: part one socio-demographic and hospitalization data and part two included 59 questions about health care services. Five points Likert scale was used to assess patients' satisfaction. The Statistical Package for the Social Sciences, version 22 was used da-ta enter and analysis. A chi-square test of association was used to compare proportion.
Results: The study found 27.8% of patients were satisfied, with respect to all health services (including physicians, nurses, pharmacies, and laboratories) and in health aspects (including communication, maintain for privacy of patients and respect them, counseling and advising roles, and time spend with patients) . There was an association between patients' satisfaction and age categories, levels of income, and the number of visits to outpatient departments.
Conclusions: The majorities of outpatients have no idea regarding satisfaction or not satisfied with health services in outpatients departments of major hospitals in Erbil city. There were significant association between the level of satisfaction with age, level of income and hospital.
References
Prakash B. Patients satisfaction. Journal of Cutaneous and Aesthetic Surgery Sep. 2010; 3(3):151-5. Available from: Doi: 10.4103/0974-2077.74491/.https://www.researchgate.net/
Aragon SJ, Gesell SB. A patient satisfaction theory and its robustness across gender in emergency departments.American Journal of Medical Science.2003; 18: 229-41.
Singh Bedi S. Impact of Healthcare services on Outpatient Satisfaction in Public and Private Hospitals: A study of Hospitals in Mumbai. [thesis]. Mumbai: D.Y.Patil, University, Navi Mumbai; 2014.
Batbaatar E., Dorjdagva J., Luvsannyam A., Savion MM., Amenta P. Determinants of patient satisfaction: a systematic review. Respect public health Journal. Mar. 2017; 137(2):89-101. Available from: Doi: 10.1177/1757913916634136. http://www.ncbi.nlm.nih.
Asefa A., Kassa A., Dessalegn M. Patient satisfaction with outpatient health services in Hawassa University Teaching Hospital, Southern Ethiopia. Journal of Public Health Epidemiology. Feb. 2014; 6(2): 101-10. Available from: Doi: 10.5897/JPHE2013.061. www.academicjournals.org
Amerion A., Amini H., Meskarpour M., Ebrahimnia M., Sanaienasab H. Assessment of patient satisfaction and its related factors with outpatient services of Military Hospital clinic in Iran. Wulfenia Journal. Decmb.2014; 19(5):74-83.
Nabbuye- Sekandl J., Makumbl F., Kasangaki A., Kizza I., Tugumisirize J., Nshimye E., et al, Patients satisfaction with services in outpatient clinics at Mulago Hospital, Uganda. International Journal of Quality Health Care. 2011; 23(5):516-23. Available from:  doi: 10.1093/intqhc/mzr040.https://www.ncbi.nlm.nih.gov/pubmed/21775313.
Aldebasi YH, Ahmed MI. Patients' Satisfaction with Medical Services in the Qassim Area. Journal of Clinical and Diagnosis Research. 2011; Res. 5(4):813-817.
Donabedian A. The quality of care: how can it be assessed? Journal of the American Medical Association 1988;260(12):1743–8. Available from Doi: 10.1001/jama.1988.03410120089033.https://jamanetwork.com/journals/jama/article-abstract/374139.
Cleary PD, McNeil BJ. Patient satisfaction as an indicator of quality care.Journal of Medical care Organization. 1988;25:25–36. Available from:https://www.ncbi.nlm.nih.gov/pubmed/2966123. [Access in May 20, 2018].
WHO. Health service delivery. 2010. Available from:www.who.int/healthinfo/systems/WHO_MBHSS_2010_section1_web.pdf [Access in March 12, 2018].
Ajays SS., Micah BM. Sampling techniques and determination of sample size in applied statistics research: an overview. International Journal of Economics Commerce and Management, UK; 2014; 2(11)1-22.
Net N. Patients' satisfaction towards health services at the out-patient department clinic of Wangnumyen Community Hospital Sakaeo Province, Sakaeo Province: Mahidol University Thailand. [Thesis]. 2007.
Pascoe GC. Patient satisfaction in primary health care: a literature review and analysis: EvalProg Plan 1983; 6(3-4):185-210. Available from: https://www.ncbi.nlm.nih.gov/pubmed/10299618. [Access in March 17, 2018].
Al-TawilNG., Mustafa IH., Ismahil ZA. Inpatients satisfaction toward nursing services in medical and surgical wards of Rizgary Teaching Hospital, Erbil, Iraq.Zanco Journal of Medical Science; 2016;20(2):1349-55.
AbdManaf NH, Nooi PS. Patients' satisfaction of services quality in Malaysian Public Hospital. The Asian Journal of Quality. 2016; 10(1): 77-87. Available from:  https://doi.org/10.1108/15982688200700028
Azizam N A, Shamsuddin K. Health care provider- patient communication: a satisfaction study in the outpatients clinic at Hospital Kuala Lumpur. Malays Journal of Medical Science. 2015; 22(3)56-64. Available from: https://www.ncbi.nlm.nih.gov/pmc/articles/PMC4681722/. [Access in Apr 10, 2018].
King MA., Hoppe RB. "Best practice" for patients-centered communication: a Narrative Review. Journal of Graduate Medical Education. Sept. 2013; 5(3):385-93. Available from:  doi: 10.4300/JGME-D-13-00072.1..https://www.ncbi.nlm.nih.gov/pubmed/24404300,
Kamhawi S, Underwood C., Murad H., Jaber B. Clients-center counseling improves client satisfaction with family planning visits: evidence from Irbid, Jordan. Global Health Science and Practice Journal. Aug. 2013; 1(2): 180- 92. Available from: http://www.chwcentral.org/client-centered-counseling-improves-client-satisfaction-family-planning-visits-evidence-irbid-jordan. [Access in March 17, 2018].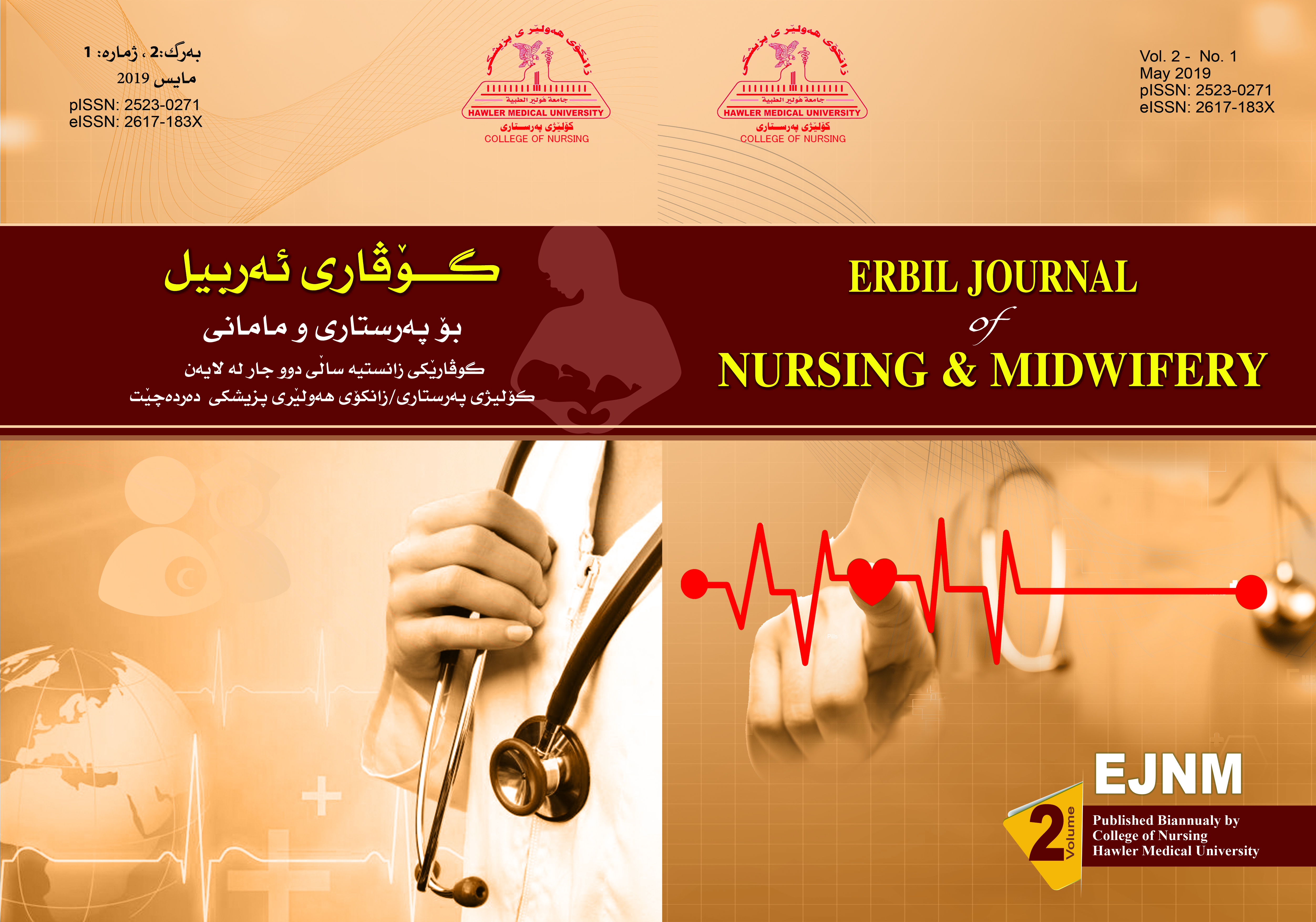 Downloads
How to Cite
1.
Mustafa IH, Satar AR. Patients' Satisfaction about Health Services in Out-patients Clinics of Teaching Hospitals in Erbil City. Erbil j. nurs. midwifery [Internet]. 2019 May 30 [cited 2022 Dec. 2];2(1):26-33. Available from: https://ejnm.hmu.edu.krd/index.php/ejnm/article/view/40
Section
Original Articles
License
Copyright (c) 2019 Ibrahim Hasan Mustafa, Ako Ramadan Satar (Author)
This work is licensed under a Creative Commons Attribution-NonCommercial-ShareAlike 4.0 International License.