Assessment of the Levels of Hopelessness among the Patients with Major Depressive Disorder in Sulaimani City
Taha Ahmad Faraj

Department of Nursing, College of Nursing, University of Sulaimani, Sulaimani, Iraq

Salwa Shakir Muhsin

Department of Nursing, College of Nursing, University of Sulaimani, Sulaimani , Iraq
Keywords:
Major Depressive Disorder, Depression, Hopelessness, Patients
Abstract
Background and Objectives: Major depressive disorder associated with greater morbidity and mortality. Many researchers have sought complex association between depressions with hopelessness. The level of severity of such factors can play role in the causes, recovery and prediction of depression. The main objective of this study is to assess the levels of hopelessness among patients with major depressive disorder.
Methods: A quantitative descriptive study design was conducted at a psychiatric clinic in the Ali Kamal Medical Consultation Center in Sulaimaniya City. A non-probability, convenient sampling was recruited of 150 patients with major depressive disorder attending the psychiatric clinic. The data was collected from December, 21st, 2017 to April 1st, 2018 by the researcher of current study through the utilization of structured interview guided by the questionnaire.
Result: The results show that the patients with major depressive disorder experience moderate level to severe level of hopelessness. Suicidal attempt is a highly significant fac-tor affecting the levels of hopelessness.
Conclusions: The study concluded that hopelessness value on its own the strongest significant factor may represent emotional source and possibly used to handle or cope with depressed mood by the patients.
References
[1] Kaviani H, Rahimi M, Rahimi-Darabad P, Naghavi HR. Overgeneral Memory Retrieval and Ineffective Problem-Solving in De-pressed Patients with Suicidal Ideation: Implications for Therapy. International Journal of Psychology & Psychological Therapy. 2011;11(3).
[2] Avila FM. Self-esteem, spirituality, and acculturation and the relationship with depression in Latinos. 2014.
[3] Schneider MA, Schneider MD. Recognizing post-stroke depression. 2012; 42(12):60-3.
[4] Lee A. Does Self-Esteem Mediate the Effect of Attachment of Relationship Quality. 2014.6420.https://scholarsarchive.byu.edu/etd/6420.
[5] Yaacob SN, Juhari R, Talib MA, Uba I. Loneliness, stress, self-esteem, and depression among Malaysian adolescents. Journal Kemanusiaan. 2009;7(2).
[6] Tuck I. A critical review of a spirituality intervention. Western Journal of Nursing Research. 2012;34(6):712-35.
[7] Mohammed T. M. Effectiveness of psychoeducational program on negative self-concept and suicidal ideation of patients with major depressive disorder in Psychiatric Department in General Hospital in Sulai-mani City. Unpublished PhD Dissertation, 2012.
[8] Hepp U, Wittmann L, Schnyder U, Michel K. Psychological and psychosocial interventions after attempted suicide. Crisis. 2004 May;25(3):108-17.
[9] Lubow C. Experiences of Depression: Hope-lessness, Good Therapy. 2011. https://www.goodtherapy.org.
[10] Ahmad A, Altaf M & Jank. loneliness, self-esteem and depression among people of Kashmir. The international journal of Indian psychology.2016.Vol.3,issue4. Dip:18.01.072120160304.
[11] Fortinash K. M. & Worret P. A., (Eds). Psychiatric Mental Health Nursing (5th ed.). 2012. St. Louis, MO: Elsevier/ Mosby.
[12] Huen JM, Ip BY, Ho SM, Yip PS. Hope and hopelessness: The role of hope in buffering the impact of hopelessness on suicidal ideation. PloS one. 2015;10(6):e0130073.
[13] Barker, D. The who is suicidal. Psychiatric mental health nursing: the craft of caring. London, UK: Hodder Arnold. 2009.
[14] Britton PC, Duberstein PR, Conner KR, Heisel MJ, Hirsch JK, Conwell Y. Reasons for living, hopelessness, and suicide ideation among depressed adults 50 years or older. The American Journal of Geriatric Psychiatry. 2008;16(9):736-41.
[15] Hall MF, Hall SE. Managing the psychological impact of medical trauma: A guide for mental health and health care professionals. USA, Springer Publishing Company; 2016.
[16] Ribeiro JD, Huang X, Fox KR, Franklin JC. Depression and hopelessness as risk factors for suicide ideation, attempts and death: metaanalysis of longitudinal studies. The British Journal of Psychiatry. 2018; 212(5):279-86.
[17] Vass V, Morrison AP, Law H, Dudley J, Taylor P, Bennett KM, et al. How stigma impacts on people with psychosis: The mediating effect of self-esteem and hopelessness on subjective recovery and psychotic experiences. Psychiatry Research. 2015; 230(2):487-95.
[18] Fraser L, Burnell M, Salter LC, Fourkala EO, Kalsi J, Ryan A, et al. Identifying hopeless-ness in population research: a validation study of two brief measures of hopeless-ness. BMJ Open. 2014; 4(5):e005093.
[11] Pompili M. Exploring the phenomenology of suicide. Suicide Life Threat Behavior. 2010. 40:234–44.
[20] Soundy A, Stubbs B, Roskell C, Williams SE, Fox A, Vancampfort D. Identifying the facilitators and processes which influence recovery in individuals with schizophrenia: a systematic review and thematic synthesis. Journal of Mental Health. 2015 Mar 4;24(2):103-10.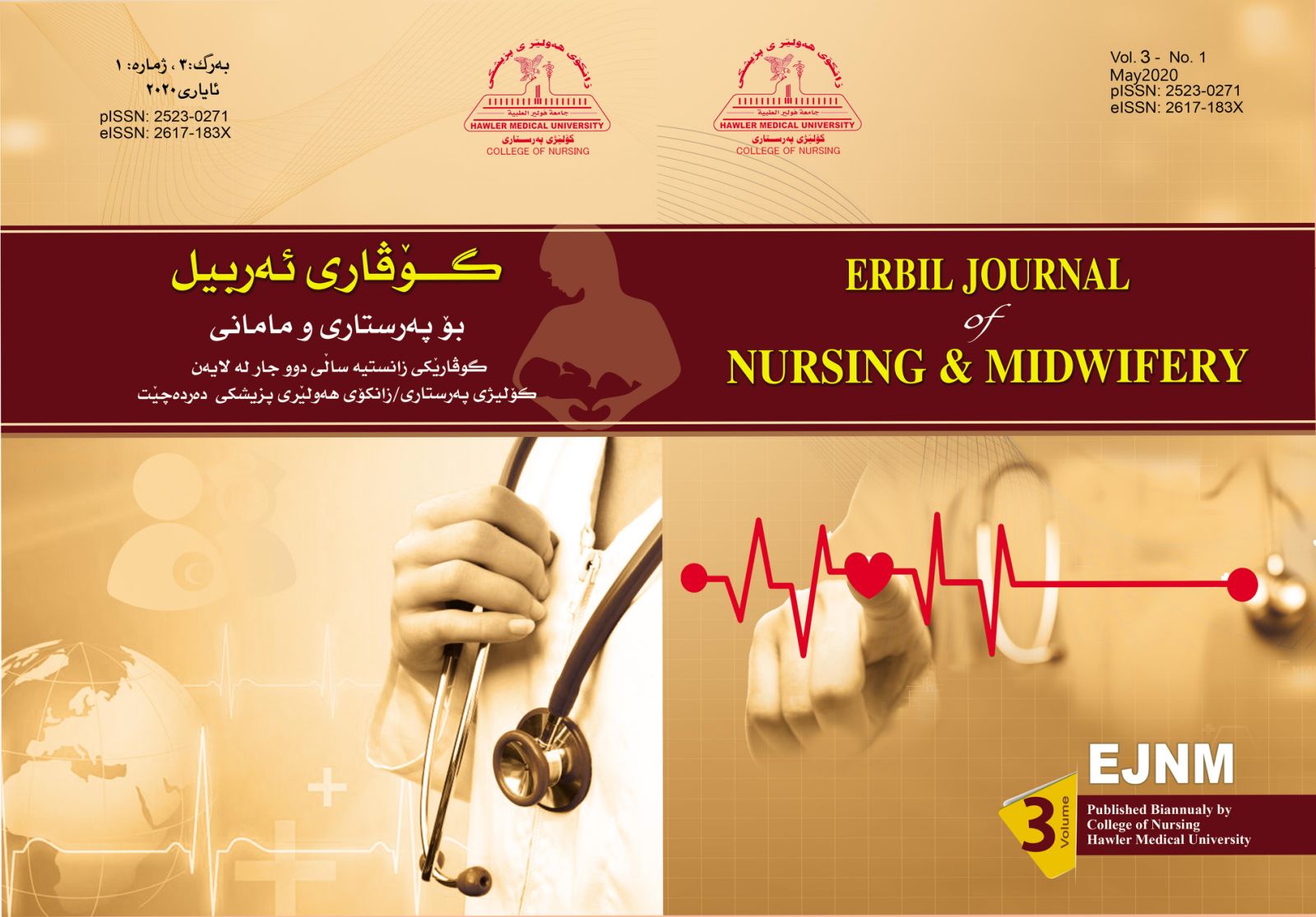 How to Cite
Faraj, T., & Muhsin, S. (2020). Assessment of the Levels of Hopelessness among the Patients with Major Depressive Disorder in Sulaimani City. Erbil Journal of Nursing and Midwifery, 3(1), 68 - 74. https://doi.org/10.15218/ejnm.2020.08
Section
Original Articles
Copyright (c) 2020 Erbil Journal of Nursing and Midwifery
This work is licensed under a Creative Commons Attribution-NonCommercial-ShareAlike 4.0 International License.